The  adventures of a lone wizard versus the MOUNT COOK GROUP, a subsidiary of AIR NEW ZEALAND, in this narrative an evil trans-national corporation. The Wizard tells the story himself.
"We live in a world of proliferating images…The world of the image has become the world of the real at the same time as postmodernism has shown the world of the real to be a mere image…Nothing has any particular significance, so nothing can be dismissed as insignificant.. Banality is threatened with its hour of glory. To ward off the banal, we must use excess and irony….if we fail to use excess and irony we are in danger of creating a new order of hatred and false compassion. Once we lose the illusion of the real, then if we see everything as equally banal, we fall prey to a culture of indifference and sameness"
"The Spectator" review of Baudrillard's latest novel, 29/3/97.
"So Real it's Unreal"
One fine day in October 1994 I was at my home in Christchurch reading and sipping a cup of tea, when Alice came in with the mail. One of the letters was from a mutual friend, a nun who lived in Sydney. Inside the letter she enclosed a full-page advertisement cut from The Sydney Sun Herald. To our mutual amazement the advert, which was for the Mount Cook Group of travel companies, featured a picture of me under a headline "NEW ZEALAND – SO REAL IT'S UNREAL".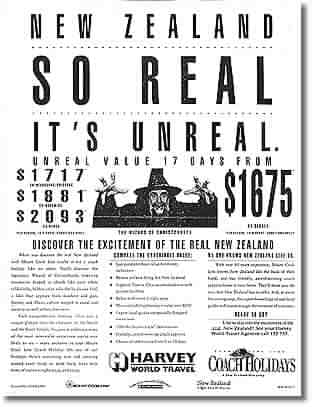 The photo of me, obviously obtained from the Canterbury Tourism Council, was the only picture on the page, and was incorrectly identified as "The Wizard of Christchurch". The advertisement listed The Mount Cook Group's coach services which were tied in with flights by its parent company, Air New Zealand. In the copy was the phrase, "You'll discover the legendary Wizard of Christchurch, towering mountains etc"
We were both shocked because we had no idea that my precious image, which took decades to build up and enhance, was being used in a major commercial promotion overseas. Moreover it was featured prominently in the most prestigious newspaper of one of the world's major cities without my knowledge or permission.
Years of Friendly Cooperation
Over the past twenty years I have been associated with the Mount Cook Group in a number of promotions for Queenstown and other tourist resorts. These have been both imaginative and economical.
On one occasion I arranged for Alf's Imperial Army to mount a marine invasion of Queenstown from the lake. On another I organised a week of activities there which included being marched on by a group of mature "suffragettes" who, incensed at a few harmless comments I had made on the evils of women, pitched me into the lake.
The week culminated with me on the crest of a hill high above the city (complete with an "over-the-top" Yankee commentator) casting a powerful spell to pacify the giant of Lake Wakatipu. I had explained to the locals that the sleeping giant had been awakened by a visiting American film crew (who had recently been crashing aircraft into the lake) and was about to emerge from the lake and destroy Queenstown. A virgin had to be thrown into the lake as a sacrifice to the giant.
The timing was crucial and we arranged a link-up with a radio transmitter so that the crew knew when to throw the maiden out of the boat.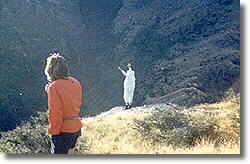 The spell (and fulsome commentary) from the heights above the town was broadcast through loudspeakers on the water-front for all to hear. It was a triumphant success. The Wakatipu giant was pacified, went back to sleep, and has been quiet ever since.
On another occasion at Mount Hutt, when they needed snow, I performed a snow-spell so powerful that a few hours later the ski field was cut off from the outside world for some days. Norm Geary, the chairman of Air New Zealand at the time, was present and was most impressed. The slight "cock-up" over the blessing of the first Boeing 767 to arrive here for service with Air New Zealand had not yet occurred. One day I will tell this embarrassing story on my web-site.
In June, shortly before the arrival of the Australian press cutting and fresh from my popular triumph in overcoming the opposition of evil fundamentalists to break the catastrophic drought in Auckland, (see The Rain Dance Kid on this site) I had spent a week in Queenstown helping to promote the Mount Cook Group's Winter Festival.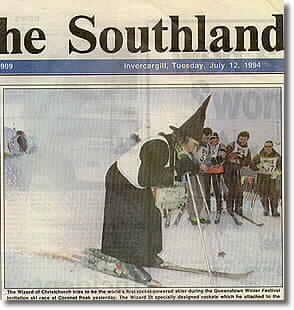 I got them two or three brilliant pictures in the news media including one in colour on the front page of "The Southland Times" showing me attempting to beat other competitors in a celebrity ski race with rocket-powered skis. This was not successful but made an excellent photo opportunity.
In summary, I have been most cooperative with the Mount Cook Group (and their parent company, Air New Zealand) for twenty years. Whenever I have been asked to join with them in some imaginative promotion we have first agreed terms and then we have both fulfilled our sides of the deal.
With all this in mind I contacted the headquarters of Mount Cook, which is fortunately in Christchurch, to find out what was going on and was put on to their marketing manager, Mr. Tynan.
We met a few days later and I explained the situation to him. He said he was sure I had agreed to the use of my image and name in the Sydney promotion but would check at headquarters and make sure. I was annoyed but not angry and insisted that I knew nothing about the promotion and had never been consulted or offered a fee. It was an impasse, but I assured him I would not let the matter rest.
Duty Calls – I Fly to Australia
By one of those strange co-incidences which plague the lives of magicians, a day or two after receiving the press cutting I was contacted by Ita Buttrose of Radio 2GB Sydney on quite a different matter. The outback in New South Wales was in the grip of a fearful drought and since news of my recent success as a rainmaker in Auckland had reached Australia they wanted me to go there and perform my magical rain dance.
I explained that I would need time to consider before deciding to take on this Herculean task (the drought had lasted several years and there had been no rain of any significance for six months). I also explained that I only go to make rain if requested formally to do so by the local mayor and council.
Radio 2GB rang up after a few days to say the Mayor and Council of Tamworth and the Shire President of the surrounding countryside would be overjoyed if I would come to their rescue. 2GB said they would cover travel expenses.
This would mean traveling through Sydney. I would be able to see for myself what was going on with Mt. Cook promotion there. I took this as a sign and agreed to take the enormous risk of failing to bring rain and breaking my perfect record.
A few days later I was on my way over the Tasman Sea on my mission of mercy, complete with large drum, magic horn, and my trusty staff "witchbane".
The Storm Breaks
On my way to Tamworth I called in to the Mt. Cook Group offices in Sydney and met their local manager Jim Crosbie. I explained the situation and he listened patiently but explained I would have to sort it all out at head office in Christchurch. I met the office staff, posed for their cameras and was introduced to the Sydney manager of Air New Zealand. We got on famously and I was taken out to a delicious dinner by the Mt Cook "suits".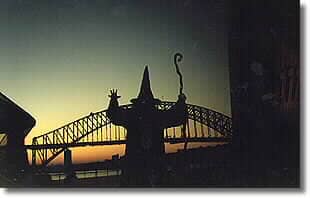 Another disturbing co-incidence; on the day that I arrived in Sydney a long article appeared in The Australian, the national daily, covering the story of the opposition in Auckland to my rain dance there, the timely intervention of the Yankee wizard, Ron, and our final victory over the fundamentalists.
The next day, after an interview with Ita Buttrose on 2GB, and a speech at "The Rocks" to a bemused crowd and a mass of journalists, I took off for Tamworth. With me were a cameraman and a reporter from TV3, the rival network to TVNZ, who had come with me across the Tasman. They were sure that whatever happened it was going to be a damned good news story.
At sun-baked Tamworth airport someone thrust a card into my hand in the crush that greeted me. Yet another bloody co-incidence. It was a greeting from "The Black Spider", my legendary enemy when I was the elected Dictator of the Students' Union at NSW University 25 years earlier. I had heard nothing from him since and I have still never met him.
After lunch with the Mayor and Shire President, I duly performed my rain dance in a parched field before some sceptical farmers, interested but cautious Aboriginal Elders, and the TV3 camera crew.
The day after my return to Sydney the Mt. Cook staff member responsible took me round some of the travel agents involved in the promotion. I observed large posters in the windows of travel shops and T-shirts all bearing my image under the unintentionally post-modern phrase, "New Zealand: so Real it's Unreal".
I also found out there had been large ads in the daily Sydney Morning Herald with the same copy. This was a really big promotion and I estimated it must have cost between somewhere near half a million dollars on advertising.
During these visits excited travel-shop staff communicated to me that huge black storm clouds had appeared over Tamworth and lightning was scaring the locals. As it happened my arrival in Sydney had been heralded by an usually dramatic storm in Sydney the day before.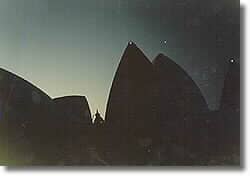 I had to leave for New Zealand next morning so it was not until I got back home to Christchurch that I got the news from the TV3 newsroom. It was "pissing down" in Tamworth. Film was shown of the downpour on TV that night to awestruck New Zealanders who had been desperately trying to kid themselves that my previous three consecutive rain dance successes had just been "happy accidents".
What more could the Mt Cook Group management want for their campaign. It was a dream come true. They had hung the whole thing on magic and mystery and a real wizard and lo and behold he had just appeared in Sydney and performed a miraculous drought-breaking rain dance in outback New South Wales!
Slap in the Face from Miserly, Ungrateful, Mt Cook Suits
Thrilled with my success I rang the Mt Cook offices to speak to Mr. Tynan. He was rather short with me and showed little interest in my brilliant contribution to their campaign in Sydney even though it had not cost them a penny.
He repeated the allegation that I had been informed of the promotion, had agreed to the use of my reputation and image and that was the end of the matter.
I made it quite clear that I was prepared to overlook their rudeness and unprofessional behaviour if they would recompense me by arranging at least one return airfare to Europe or North America for Alice and myself. I would be able to put New Zealand on the map for tourists in a way that the hundreds of paid consultants at present traveling round the world with free air travel could not possibly hope to equal.
Unmoved, Mr. Tynan informed me that Mt Cook had already sent me a cheque for $200 NZ (about $140 US) and that this was my fee! I was dumbfounded by their parsimonious cheek.
When I recovered the use of my tongue I pointed out that this cheque was for personal out-of-pocket expenses incurred in organising fireworks for my spectacular rocket-propelled skis at the Winter Festival in Queenstown. (Receipts available). This was done at my own initiative and at my own personal risk and produced excellent publicity images on TV and in several newspapers, including a front page colour picture in The Southland Times.
I was now hopping mad. After allowing myself a few weeks to calm down I approached Geoff Saunders, Alice's solicitor. He is a decent chap and a first rate golfer and has been very patient and helpful to me over the years mostly without charge, even though I am not really a "legal person".
Can't Get No Satisfaction
At the end of the year Geoff Saunders rang Mr. Tynan to try and sort the matter out amicably. Mr. Tynan agreed that some sort of deal involving airfares to Europe could be arranged.
As nothing more was heard, on February 27th Saunders and Co. wrote a letter to Peter Clark, the Manager of the Mt Cook Group Ltd., pointing out that the promised airfares had not been forthcoming and that I was getting impatient.
Then on March 14th, Meares Williams, Mt Cook's solicitors, replied denying that Mr. Tynan had made any offer of airfares to Geoff Saunders. They stated bluntly that the $200 cheque I had received was proof of my agreement being the fee for the whole promotion. There would be no other recompense.
Solicitors Locked in Combat
Since no reply was received, Saunders and Co wrote again on March 25th asking for a answer in seven days. Meares Williams finally replied on March 30th implying that Geoff Saunders had been unfair in allowing Tania Heyward to listen in to his conversation with Mr. Tynan, and repeating the denial that he had made any undertaking whatsoever.
Meanwhile financial magic had been going on in the Mt Cook organisation. They discovered suddenly that the $200 had been for fireworks after all. Instead of apologising for their faulty accounting they now found that I had been sent a cheque for $50 , which I had assumed was for extra expenses.
Freelance entertainers are always incurring minor expenses which are settled later, and fifty dollars is such a tiny amount (about $35 US) that I had forgotten it. I think it was probably because the fireworks had cost a little more than $200.
Meares Williams now stated that this $50 was my fee for the Australian campaign and proof that I had known about it and agreed to it!
It boggles the mind that a large commercial organisation, a subsidiary of Air New Zealand which is one of the biggest companies in New Zealand, could assert that fifty dollars was a fair fee for the use of my name and image to promote New Zealand in Australia. This applies whether or not I had agreed to it. Only a mental defective would agree to such a fee.
The acrimonious legal correspondence went on until September 4th, when I instructed Saunders and Co that I would consider my account with Mt Cook settled if they would arrange with their parent company for Alice and I to travel free to Europe or North America once or twice a year for the next few years.
Mr. Saunders pointed out that, after 21 years, I was cutting back my daily free performances in Cathedral Square, Christchurch, to the summer months. I was planning to travel extensively during the rest of the year, using my not inconsiderable skills in drawing attention to myself to draw attention to New Zealand as well.
We received no reply.
No Agreement in Writing
The astonishing thing about the whole affair is that a large business organisation, a subsidiary of one of the largest companies in NZ, Air New Zealand, undertook a major advertising campaign without securing the written consent of the individual on whose reputation and image the whole promotion depended. The unprofessional nature of this procedure is truly amazing.
Even more surprising is that having realised this and being offered the chance of an amicable post hoc settlement for an airfare or two (which would cost them nothing and would bring them even more good publicity) the manager of Mt Cook, chose to rudely reject my request and instead chose to imply that (a) I was lying and (b) that $50 was a satisfactory fee. He had previously insisted just as dogmatically that the $200 fireworks cheque was my fee.
Why didn't Mr. Clark meet me personally to sort the matter out when he realised there was no written agreement?
Why didn't he accept my request for the very cheap recompense of a couple of airfares?
Why on earth did he instruct his lawyers to adopt bullying tactics when he was skating on such thin ice?
Who in the world would belief him when he said that $50 was a satisfactory fee for such a major exploitation of well known intellectual property built up over 25 years?
Incontrovertible Logic
The Logic of the situation is inescapable. If I am valuable enough to use, then I must be valuable enough to pay.
I could see no point in going to court with a wealthy organisation who could easily drag things out until I could no longer afford to go on.
It was time for direct action. Fun Revolutionary style.
See "The Fun Revolution" article on this web-site.
WIZARDS WEEK
September 1995 was the Twenty-first Anniversary of my controversial arrival in Christchurch. "Post modern Prophet arrives in Christchurch" . Some months earlier the Mayor and I had agreed it would a wonderful chance for a "Wizard's Week" of celebration. Part of these celebrations was to be an exhibition of  "The Living Work of Art" at the city gallery.
With the eyes of the media on my activities, I thought this would be an excellent time to publicise my dispute with Mt Cook. Some fun-revolutionary direct action would surely melt their cold hearts, loosen their tight purse-strings and provide therapeutic relief for Peter Clark. I informed the newspapers, radio stations and television of the treatment I and my lawyers had received.
Mr. Clark's reply was to offer me, through my lawyers, a single return airfare to Australia (commercial value about $550 NZ) and, when I refused it, he accused me of being greedy! He once again implied that I was lying when I said I was not even informed, let alone consulted and paid a fee for the promotion.
He stated this with the full majesty of his exalted position assuming that, if it were a choice between believing him or believing me, the press and other media would believe him. To my horror this is what happened. No journalist chose to ask him why there was no agreement in writing or why he had rejected my earlier offers of a cheap settlement, they did not even question the ridiculous fee being offered. I was surprised at their timidity.
To add fuel to the flames, in the same month The Dominion newspaper in Wellington reported that Air New Zealand, their parent company, had made a profit so huge ($260 million) that the whole country was talking about it.
Wizards Gather in Christchurch
Wizard's Week was the first Great Conclave of Wizards. They came from other parts of New Zealand and from Australia. Together in our full regalia we had fun in the sun; jet boated, paddled in the sea at Sumner, made enormous sandcastles, inspected the new Casino, went up the Gondola and meditated in the Wizard's Nest we built on top of the University Library Tower.
Their most important function was to chant the correct "hum" whilst I was "hatching" out of a giant egg in the art gallery. It was just after this that Mr. Clark made his public comments. The wizards were naturally enough furious at hearing their great leader unfairly vilified.
A Council of War was held high up in the clouds above the city at the Gondola Terminal. We decided to combine our magical forces and the powers latent in the giant egg and the Wizard's Nest in a "Day of Rage". We informed the TV crews who were waiting at the top of the mountain to hear our response.
WIZARDS "DAY OF RAGE"
The Exploding Egg
At noon on Wednesday of Wizard's Week, the seven wizards collected the giant egg from the art gallery, now with a gaping hole from which I had "hatched" on the previous Sunday. They processed down "The Sacred Way" (Worcester Boulevard), past the old phone box with its historic plaque and into Cathedral Square.
Placing the egg near the hallowed spot where I had been addressing the multitudes for 21 years, we carried out a series of rituals before all finally gathering inside the egg. Local and national media were present to witness the unusual "Wizards' Day of Rage".
To the sound of a drum roll from members of Alf's Imperial Army and the waving of banners announcing "Mt Cook Exploits Wizards", by friendly amateur monastics, the giant egg began to shake, rattle and roll.
Finally it split open like a ripe fruit, spilling out wizards in all directions. The wizards, now white hot with anger, began breaking large pieces of egg shell over each others' heads in an orgy of violence.
They threw the pieces into the large crowd who, being persuaded that these fragments had magic powers to cure warts and relieve the pain of insect bites provided they had "faith", eagerly snapped them up.
Cathedral Desecrated
This spectacle was marred by a bizarre incident which took place while the wizards were busily engaged inside the egg. A pair of respectable looking religious fundamentalists, later seen entering the New Life Centre, seized our staffs, which we left outside the egg, and rushed into the Cathedral with them.
Obviously maddened by the sight of so many wizards leaping about they took our staffs and laid them on the tomb of the first Bishop of Christchurch, a very holy spot. They then muttered incantations, which they no doubt imagined to be prayers, to destroy the powers of the staffs.
The Cathedral staff were outraged by this desecration of their beloved shrine. The consequences of this "cursing of the staffs" were catastrophic on the spell we cast later in the week for the home rugby team at the most important match for years. The full story is told in "The Hazards of Casting Rugby Football Spells" on this site.
Wizard's Nest Torn to Pieces
The enraged wizards then hurried to the University of Canterbury. Storming through the library and taking the lift to the top floor they leapt upon the huge wizard's nest perched on top of the library tower and tore it apart with their bare hands.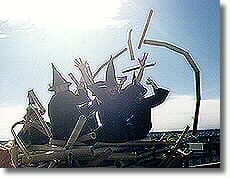 Their fury having abated, they returned to the commodious new Hotel Grand Chancellor which had kindly provided accommodation for the visiting wizards. They were in fact their first guests.
The Wizard Goes into Orbit
The third and final act of the wizards' "Day of Rage" was made possible by Mark Stevens (now known as Mark Rocket) a computer wizard (a lesser rank than university, city, or national wizard, but worthy of respect). Mark had prepared a computer terminal in one of the luxurious hotel rooms.
After suitable incantations and surrounded by wide-eyed junior colleagues (and with our old friends the "Duke and Duchess of Wellington" gracing us with their presence) I pressed a certain key on the keyboard. Lo and Behold a message went out at the speed o f light throughout the world wide web announcing "The Wizard is Coming". I had joined the great web of consciousness, The Internet. I hoped that I might find other post modern wizards awaiting my call to "come out".
Mt Cook HQ Bombarded with Tiny Wizards
The Great Conclave was over. The visiting wizards had gone home tired but with happy memories (apart from the unfortunate rugby game). Alas there was no sign of any change in the flinty heart of the Mt Cook Landlines Manager. It was obvious that some more "fun powder" was needed.
With the invaluable assistance of Alf's Imperial Army Artillery Company, under the rather excitable Captain Cordite, and a small procession of the banner-bearing amateur monastics, we set up a cannon facing the Mt Cook HQ across Riccarton Road.
Seven miniature wizards, each bearing the mana of a powerful wizard, were fired across the busy road to strike the building. The last wizard carried a small explosive charge.
"Eurotrash" in NZ to Film The Wizard
Shortly after this a crew from the disgusting, rather weird, but very popular, British TV programme "Eurotrash", made their first visit to Australasia. They were mainly filming in Australia for their final "Down Under" show of the season. They only wanted one segment from New Zealand and had chosen me as the only character here interesting enough to be worth filming.
I took advantage of the fact that the show was watched by millions of people in Europe to invite them to film my next attack on the Mt Cook HQ.
This time we recruited Captain Cordite's latest weapon, a replica tank, to transport five wizards, complete with pointy hats, through town to the target building. This provided very dramatic footage with the silhouetted black tank speeding through the streets with five wizards perched on the turret.
The rather ironic commentary, added later, explained to the watching multitudes that the wizards were "at war with evil multinational, Mt Cook Group". On arrival we gathered in a ring around our staffs, which had regained their powers, and, after a few stately circlings, each wizard uttered a curse and as he did so his pointy hat exploded.
The programme also showed the wizards gathered round a computer terminal in a Christchurch cybercafe looking at my new home page and listening awestruck to my plans for world domination which include high jacking the internet.
I Send In My Bill
Throughout all these beautiful and dramatic fun-revolutionary attacks Mr. Clark had maintained a glacial indifference. It was time to speak to him in a language he could understand. Money!
I have an old and trusted attorney, Richard Niven, who has helped me on other occasions in the past to avoid being "ground down by the bastards". He is well acquainted with the law relating to copyright and intellectual property and made sure the company was presented with a fair account for services rendered.
Five per cent of the advertising budget, is the minimum fee for anyone, famous or not, whose image or name is used to promote a product or a service.
In the absence of inside information we estimated this amounted to about twenty-five thousand New Zealand dollars.
My learned friend also added an additional sum of five thousand dollars as a penalty for failing to secure my consent. As a wise precaution against delaying tactics he added a reminder that current Bank of NZ overdraft rates would be charged on all accounts remaining unpaid.
By yet another magical coincidence his account on my behalf was rendered on my birthday (4th December 1995) which added to my annual joy. I am looking forward to many happy returns, but so far they have not been forthcoming.
Wizard's World Wide Web War
My arrival on the world wide web, like a meteor in a dark sky of mainly low magnitude stars, will surely make an impression on the parsimonious management of Mt Cook and Air New Zealand? Then at last I could  receive my just rewards.
Post Script; I never got paid, but the curse on Mt Cook Landlines led to their complete demise a few years later!
The Stolen Image Photo Gallery

Videos Below